Hello lovely readers!
Phew, August practically flew by and I don't know how I managed to do all the stuff that I did and still read so much. I read 8 books (well, technically 9 since Maus was in two volumes) in August. Since I managed to read most of the books in my August TBR, I did a quick visit to the library to fill my time. In August I had two book exams, bit of travelling, a wedding, hanging out with friends as well as work. However, I guess it is the impending approach of September and a new semester that pushed me to read freely while I still could.
This month the books varied quite a lot: I read books that I loved and enjoyed very much, and then I read books that left me completely numb and annoyed. I also read a lot of shorter books this month – Maus II standing at 159 pages. On the blog, I posted also about Finnish fiction in Words without Borders.
Books read in August:
I read White Hunger by Aki Ollikainen in a few nights and thought it was extremely touching and well-researched. It set in the 1860s when famine was a national problem in Finland due to bad crops and people were dying in their homes. It narrates the story of a poor mother and her two children who leave their home in search of more food, as well as the story of a wealthy doctor who does not believe in love. The contrast between the two destinies is strong and really makes you wonder how anyone survived those times. The book was nominated for the national Finlandia Prize in 2012, and won the Bloggers' Favourite Book of the Year also in 2012. The English translation is published in February 2015. 4/5 stars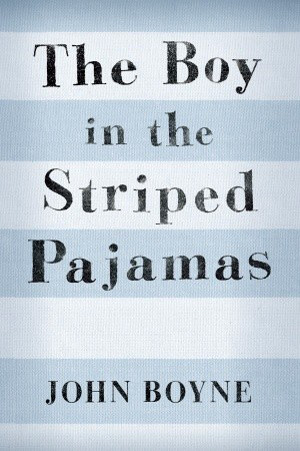 Next up I read The Boy in Striped Pajamas by John Boyne and disliked it. It tells of a nine-year-old boy whose father gets a position in Auschwitch and the family has to move from Berlin to Poland. The narrator is very, very naïve (compared to, say, Liesl in The Book Thief) and constantly wonders ponders about the events surrounding the house. The story tries to shock its readers through the naïveness of a child narrator, but writing is just frustratingly bad. Due to the topic I didn't want to hate the book, but I simply can't give it more than 2/5 stars.
On the afternoon that I visited the library, it started raining while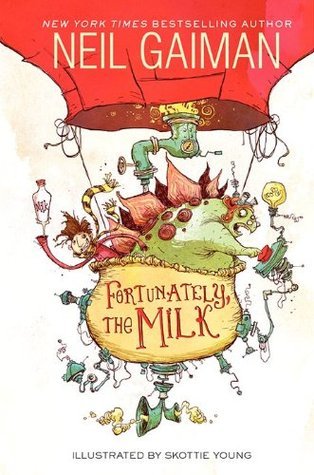 I was inside. So instead of jumping outside to the pouring rain, I decided to spend my time with a book – Fortunately, the Milk by Neil Gaiman. I had never before read any Neil Gaiman, and though this book is aimed at younger children, it managed to cheer up my day. Fortunately, the Milk is a story that a father tells to his two children about how he got into an adventure whilst on the way to get milk from the corner store. The book is illustrated by Skottie Young and the illustrations are so integrated in the story that I could not picture Gaiman's writing with any other illustrations. Hopefully I'll get to round to reading more Gaiman in the autumn. 4/5 stars
Books on my September TBR:
Storm of Swords by George R.R. Martin (currently-reading)
As Black As Ebony by Salla Simukka
Cranford by Elizabeth Gaskell
September is going to be a busy month for several reasons. First off, university is starting which means a lot more work. I have a few literary translation courses that I'm excited about, but I also know they will require a ton of work. I also passed by Swedish exam at the end of August, and will be studying a few courses this year. Secondly, new semester also means a lot of student events of which I'll either be hosting or participating. And thirdly, I'll most probably be still trying to work during the semester so my free time is cut even shorter. Hence it is very likely that beside these three books, I might not read much. Storm of Swords is around 1,000 pages and since many people have said it's their favourite of the series, I have high hopes. So far so good.
As Black As Ebony is the third and final book in the Snow White trilogy, and I plan on writing a review of both it and the second book, As White As Snow, which I read back in June/July. And finally, me and two lovely book bloggers have decided to do a small read-along/buddy read of Elizabeth Gaskell's Cranford. I read Cranford few years ago quickly after reading North and South, but for the others it is their first time reading it. We plan on beginning our read-along on the 8th of September and go on for about a week or two, depending on how quickly we read. I'll do a separate post about the read-along soon, so if you'd like to join us in reading Cranford, you're welcome to do so!
That was all for now. Let me know in the comments if you've read any of the books mentioned in this post and what you thought of them. Also, if you like, you can let me know which books you read in the past month that you'd recommend! Cheers! x