Yet another month has passed and I can't believe it's already November! It feels like summer was just last month, and now we're only two month's short of Christmas. Panic! October has been a special month here in my blog as I celebrated my one year anniversary with a Tove Jansson inspired giveaway, spent two lovely days at the Helsinki Book Fair, and read a plethora of good books. In October, I read a total of 7 books, which included one non-fiction book, one play and one graphic novel.
When it comes to reading, I'm actually beginning to enjoy the autumn season – before going to bed, I tend to curl up in the corner of my sofa with a large cup of tea and read for about an hour or two to clear my head before sleep. However, with a few books I simply had to finish the book before going to sleep and consequently I had a few mornings when I needed a slightly larger cup of coffee to get going. Aside from reading, the month was been filled with quality time spent with friends and family, cooking some spicy food, and working under tight schedules.
Books read in October: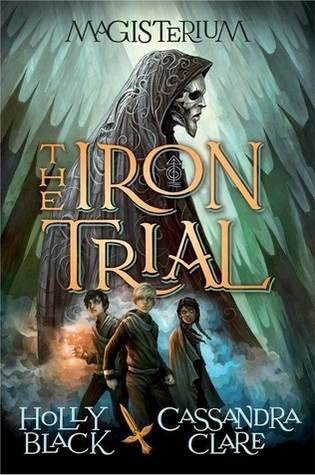 In the beginning of the month I read The Iron Trial by Holly Black and Cassandra Clare, which I won in a Goodreads giveaway. It's the first book in the Magisterium series that follows a young boy in a wizarding boarding school. The main character is determined to fail the entrance exam, but instead he gets chosen and thus has to go through at least one year of schooling. Especially it was hard not to compare this book to the Harry Potter series, but the truth is that the book only plays cleverly with the magical boy/hero trope. Nevertheless, I didn't really connect with any of the main characters and the overall story left too many unanswered questions for me to appreciate it as a stand-alone. I am not sure if I'm going to continue with the series, but if you enjoy middle-grade and stories about magic schools, this might be your book. 3/5
From the Helsinki Book Fair I picked up Lapsus by JP Ahonen, the fourth installment in the Villimpi Pohjola series. I have previously followed the comic strips published in the local newspaper, and I've enjoyed them so much that I think I will try to collect the published ones. The series follows a group of university student through-out their studies and all the crazy situations that life throws at their way. In this installment, one of the main characters gives birth to a baby girl and struggles with her new identity as a mother; the other one struggles with finishing his master's thesis and finding purpose in the post-thesis life; and the third is on the brink of stepping into working life. I love Ahonen's humour and in a way I find myself relating to the characters in this series (although my life is nowhere near as crazy as theirs). 5/5
Books on my November TBR:
Päivälehden mies by Janne Virkkunen (currently-reading)
Fair Play by Tove Jansson
Salome by Oscar Wilde
The Tragedy of Fidel Castro by João Cerquiera
Storm of Swords by George R.R. Martin (seriously.)
November is going to be a busy month, but I still have books that I really want to read. I've already started reading my non-fiction pick of the month: Päivälehden mies (eng. The Newspaper Man). It's sort of a memoir of Janne Virkkunen, who was the editor-in-chief of Finland's largest daily newspaper from 1990-2010. Virkkunen writes about his experience as the editor-in-chief as well as the changes that happened in the paper as well as the world during those years. I'm very much looking forward to reading what he has to say about the newspaper culture in Finland. Next up on my TBR is Fair Play, which is going to be the fourth and final book in my Tove100 challenge. I've heard only wonderful things about this book, and I can't wait to read it. After that I will be reading another play from my collection of Oscar Wilde's plays. As I very much enjoyed The Importance of Being Earnest last month, I was recommended to read Salome next.
In November, I will also be reading The Tragedy of Fidel Castro which is a political and religious satire about the Cuban revolution. I was sent this for review by the author, and I think the premise sounds very intriguing. And lastly on my list is Storm of Swords. This is the third month that I've added this book to my TBR and still I haven't touched the book since early September. I guess watching the 3rd season of the TV series beforehand spoiled my interest in the series and I haven't really been very interested in picking it up again. However, I still really want to read this book and continue with the wonderful series. So this month, I'm starting from the beginning and won't read another book before I finish it.
These are my current plans for November reads. Let me know if you've read any of them and what you're reading this month. Happy reading! x