May's gone and summer's here – almost! May was an OK reading month with 7 books and towards the end of the month I was also able to push out some reviews of the books. I still a have small backlog of books that I want to review as well as other bookish posts, so I'll try to work on those in the beginning of June. Aside from reviews I also posted my Spring book haul in May, so if you're interested know about the books that I've lately acquired, you can go read that one. In May I also started to post my reflections as I'm reading in Goodreads, so if you're interested in those, feel free to add me!
My summer holiday begins in June so I hope to put my free time to good use and to read and write as much as I can. I will be working, but I'll still have more time in my hands. I'm also planning on traveling during the summer – maybe a short trip to Berlin – but it will most likely happen towards the end of the summer. Right now I'm focusing on enjoying the freedom and doing all sorts of little things.
Books I read in May: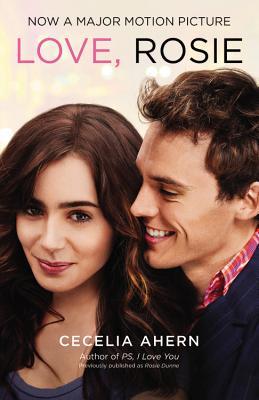 Love, Rosie by Cecilia Ahern is a chick-lit novel about two friends who grow up together in Ireland and continue to stay in contact years and decades after life takes them to separate directions. Originally titled Where the Rainbows End (UK) or eponymously Rosie Dunne (US), the book is basically a will-they-wont-they type of romance sprinkled with small rants (á la the famous 'Cool Girl' rant in Gone Girl) about marriage, divorce, respect in relationship, growing up, etc. I used to read a lot more chick lit and enjoy the light and entertaining tone of the writing, but with Love, Rosie I only found myself annoyed with the all over the place structure, the epistolary form that didn't (in my opinion) really work, and hoping already after 100 pages that the book would end quickly. I did consider DNF'ing the book, but because of my stubborn nature, I ended up powering through it anyway. Needless to say, I didn't really find it that enjoyable and gave it only 2/5 stars.
Books on my June TBR
The Brief Wondrous Life of Oscar Wao

by Junot Díaz (currently-reading)

Edith Södergran – poems and aforisms (currently-reading)(Swedish)
The Beggar and the Hare by Tuomas Kyrö
Mr. Darwin's Gardner by Kristina Carlson
Just Kids by Patti Smith
A Girl is a Half-formed Thing by Eimear McBride
Waiting for Godot by Samuel Beckett
The Silkworm by Robert Galbraith
My plan for June reading is a) to read all my library books before they are due back and b) read as much from my shelves as possible. As my Spring book haul revealed, I have a terrible habit of buying books and letting them sit on my shelves for months without reading. So I need to make some effort to tackle down my physical TBR during the summer. I'm currently reading The Brief Wondrous Life of Oscar Wao, which I started and put down around the middle of May. I was really enjoying the narrative voice of Oscar and his family, and I can't wait to find out what will happen next. I'm also still reading the large Edith Södergran poetry collection that I started back in March. In fact, I didn't read a single poem in May, so I'll really have to catch up with my reading if I want to finish it during the summer.
Next up are my two Finnish novels, The Beggar and The Hare and Mr. Darwin's Gardener, that were left over from my May TBR. Both are rather short, so they should be quick reads. I also have Eimear McBride's A Girl is a Half-formed Thing which was won last year's Baileys Women's Prize. The book is a short one but I've heard that the writing style is quite challenging, so I'm interested to see what it's like. After that I have two books from my latest library haul, Just Kids and Waiting for Godot. I have been literally waiting for months to read Patti Smith's memoir and based on the first five pages, it looks very, very promising. Waiting for Godot is one of Samuel Beckett's most read plays and since I was feeling like reading a play again, I decided to go with Beckett. Lastly I have the second book in the Cormoran Strike series, The Silkworm. The book came out already last summer, but since I read the first book in the series then, I've been saving the sequel for this summer. Once the weather gets a bit nicer, I'll head to the beach with this one!
Those are the 8 books that I plan on reading during June. If I do manage to read all of them before the month is over, I might try to pick up something to suit my Reading England 2015 challenge which I've been neglecting. I hope you all had a lovely May and that you're feeling excited for June!
POST-EDIT: Go Set a Watchman is published on July 14, not June 14. I guess the hype of reading TKaM got me so excited that I mistook the date to be sooner. Apologies for the confusion.